The Spider and The City
A downloadable solo tabletop game
You are the Spider. This is the City.
You are a criminal mastermind. You are the spider lurking in the shadows. In a city that was held in the vice grip of Celestial Law, you have never followed a rule that you didn't write.

You are your own master - a leader of a hard-bitten crew, holding court in the seedy underworld that thrives below your city's paper- thin facade of order and normality. The rich don't believe you exist. The poor know you all too well - your justice is often the only one they can access.

But now the city of Inquilad - your city - is free. As the kingdom lies in ruins, the people of Inquilad have seized power and now seek to build a utopia. You understand freedom. And you wonder how long their freedom will last...

There are rumours that the Right Men, General Piyadasi's army, march toward the city. A little bird tells you that they might reach the city walls as soon as 2 months from now.

You thought you understood how the world works. But if your city can be reborn, what about you?


About the Game
The Spider and the City combines high stakes resource management and prompt-based journaling. Like in videogames such as Darkest Dungeons or tabletop games like Band of Blades, you allocate resources to missions, trying to giving yourself the edge to help you succeed. Using mechanics inspired by Blades in the Dark, you build the strongest dice pool you can ... and then let the gods decide how the bones fall. Like in indie hit Thousand Year Old Vampire, you respond to the prompts that the game throws at you, telling the lonely story of a criminal mastermind in a rebel city. Your decisions might not change history but they matter - and you're in charge of how much. When the game ends, take the journal you've written and read it as a historian and write the "real" story of your tragic character.

Good luck! Let your heart not break on these tumultuous shores.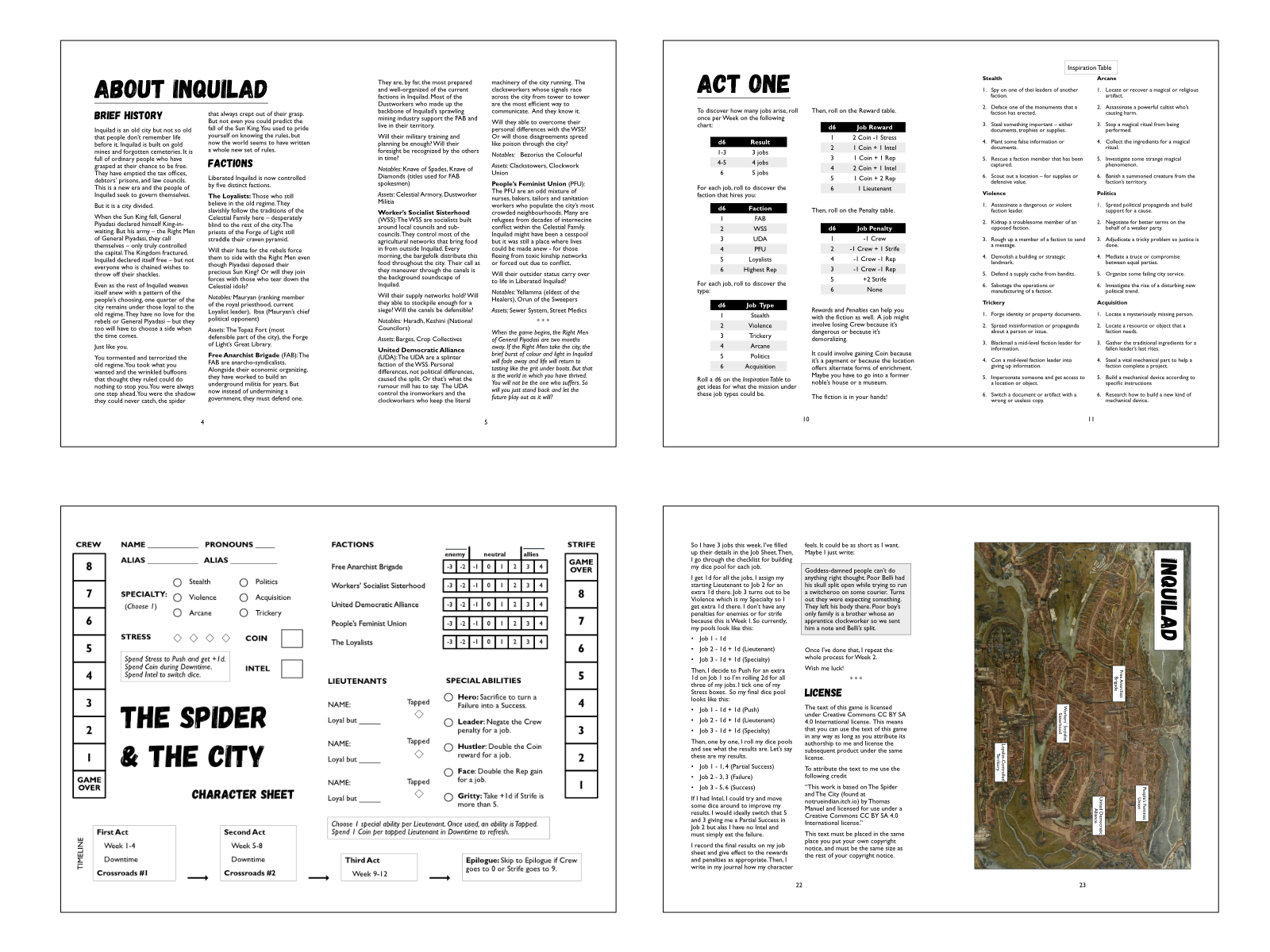 Update Oct 2nd 2020: Digital Job Generator available. Now, you can generate jobs with just a click of a button. Save yourselves some dice rolls by visiting this link.


Here's a glowing review from the RPG Internationale:

Purchase
In order to download this solo tabletop game you must purchase it at or above the minimum price of $10 USD. You will get access to the following files:
Spider and City Pages v1.1.pdf
5 MB
Spider and City Spreads v1.1.pdf
5 MB
Spider and City Character Sheet v1.1.pdf
138 kB
Spider and City Job Sheet v1.1.pdf
121 kB
Community Copies
Support this solo tabletop game at or above a special price point to receive something exclusive.
Community Copies
For someone like me, I probably couldn't even participate in this hobby without the existence of Community Copies. So here are a bunch of free copies!

Please consider reviewing, rating (5 stars or this game dies forever), and generally sharing links to the game with others as a way of supporting this game! It's a free way of helping me out!

Comments
Log in with itch.io to leave a comment.
Is there any more Community Copies available?
This game appeals to me on soooo many different levels: compelling world-building, tense faction drama, meta level commentary on outlaw figures, very humanized journal prompts...

Currently in the process of creating a video recommending the game, including a playthrough of Week 1.

It will probably take another (real-world) week to finish the video (I'm practically a newbie at it). But in the meantime, here's my Week 1 journal for my Spider, Shardul Athawale (alias: Vetala, Betaal):

https://docs.google.com/document/d/1qjv8QLFkI0RgtMJlDdzs20xXGGNUXgKOga8m1NYNWSM/...

This looks great and I'm eager to play. How much Crew do I start with? Apologies if it's in the text, I can't find it anywhere.
Thank you! You start with the maximum, i.e., 8. Will make this more clear in the next update.
Edit: The Char Sheet now makes this clear!

amazing concept!! i loved the feeling of the world, the factions, very excited to play it out, congrats on the game!
Hey, the pages and spreads pdfs have exactly the same layout. They're both spreads
Omg such a cool concept. Can't wait to run this
Minor typo: Intel is a sign of how you had a clever trick up your sleeve all along
and
They seem nervous about telling you this as if they worry about how you'll react.
Thank you so much! Made both these changes in the v1.1 which I've uploaded now. Hope you have fun playing it!